Ocumed® Omega Daily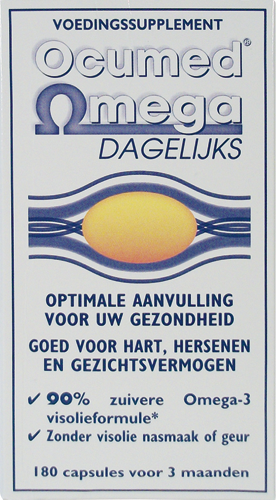 A healthy diet and balanced pattern of life are important for good health. By receiving enough nutrients the body can repair and strengthen itself, so that a good resistance (immune system) can defend itself against the many dangers that threaten our daily health.
That is why it is useful to help the body out with this by using OCUMED® OMEGA DAILY, a highly purified and concentrated form of a selection of unsaturated fatty acids, which have a positive effect on our immune system, heart, brain and vision. These are mainly the fractions DHA (very important) and EPA, which have a combined concentration in OCUMED® OMEGA DAILY of more than 90%.
Anyone can confirm that OCUMED® OMEGA DAILY is of extremely pure quality and thus optimally suited to assisting the immune system by performing the "freezer test". The contents of a OCUMED® OMEGA DAILY capsule will not freeze in your freezer. Other omega 3 products do, because they contain less than 90% omega 3 fatty acids and also contain unwanted saturated fatty acids, which can cause these products to be less effective.
The use of OCUMED® OMEGA DAILY may also be considered in case of Macular Degeneration and all other degenerative diseases associated with (advanced) old age, which may play a negative role from the age of 45 years on.